#CoronationStreet's suicide storyline has 'helped' others #corrie
By Newsbeat
BBC News
10/05/2018 Make a Comment
Contributed by:

Daveyone

( 28 articles in 2018 )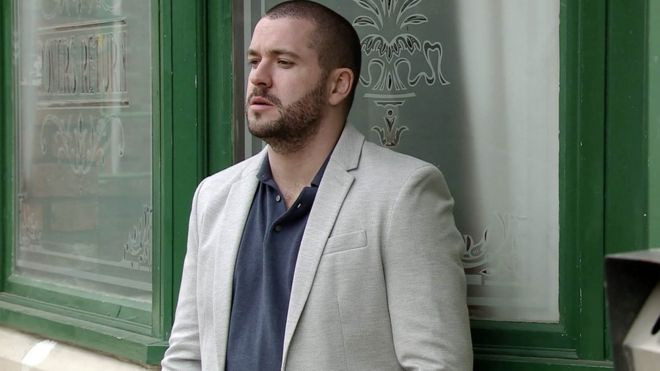 TALK-YOUR VOICE WILL BE HEARD.@theCALMzone @samaritans
It's been a tough week for Corrie fans - watching the storyline involving Aidan Connor taking his own life.

But actor Shayne Ward, who plays the character, says it has already helped people considering suicide.

There's been a huge reaction online too, with one fan tweeting: "We need to listen, people need to talk about it. Thanks for raising awareness."

The charity Samaritans worked with Corrie on the script and says it's important to highlight the issue.

Image copyrightITV
Image caption
Aidan's dad in Corrie, Johnny, found a note from his son
Wednesday night's episode saw Aidan's friends and family struggle with their grief after discovering he had killed himself.

The soap has been praised for raising awareness of mental health issues and male suicide.

Shayne says he has been overwhelmed by the response he has received.

He told the Sun: "A lot of people who are considering attempting suicide have got in touch to say 'I'm calling somebody now. I was attempting it and you've helped me'.

"The response has been truly overwhelming."

Skip Twitter post by @shayneTward

Shayne Ward
✔
@shayneTward
Tonight's @itvcorrie Episode is Powerful and full of raw emotion.
Some Incredible performances from all The cast.!

Keep Talking Everybody.

I'm so proud of all your bravery in doing so.

TALK-YOUR VOICE WILL BE HEARD.@theCALMzone @samaritans

❤️

7:29 PM - May 9, 2018
11.7K
2,546 people are talking about this
Twitter Ads info and privacy
Report
End of Twitter post by @shayneTward
Viewers also shared their thoughts and feelings about the show on social media.

One person wrote: "Storylines don't get much tougher than this and #corrie are doing a fab job."

"Coronation Street is hitting me hard tonight so gone out for a walk. Well done for tackling such a hard storyline," another said.

Other fans tweeted they were in tears watching the soap.

Skip Twitter post by @lukeambleruk

Luke Ambler
@lukeambleruk
Watching Corrie last night really hit home. They nailed it. No pain like losing someone to suicide, brought back the devastation left on our family. That's why we need to keep men talking. #ITSOKAYTOTALK 👌🏻

6:41 AM - May 10, 2018
47
See Luke Ambler's other Tweets
Twitter Ads info and privacy
Report
End of Twitter post by @lukeambleruk
Skip Twitter post by @bernierussell8


I'm not perfect. I'm flawed ❤
@bernierussell8
In all the pieces I think this is the most powerful ever in a soap yet. Who ever wrote this well done @itvcorrie #Corrie

6:48 AM - May 10, 2018
15
See I'm not perfect. I'm flawed ❤'s other Tweets
Twitter Ads info and privacy
Report
End of Twitter post by @bernierussell8
The producers of Corrie say the plot "is designed to give people who hide their feelings of desperation a chance to start a conversation".

They've been working closely with mental health charities on the storyline - including Samaritans and Calm.

Lorna Fraser from Samaritans told Newsbeat: "Someone calls the Samaritans every six seconds.

"Showing a story like Aidan's in soaps is really important and people do usually calls us to say they've been touched by the storyline."

If you've been affected by any of the issues in this article, you can find help at BBC Advice.

For details of organisations which offer advice and support, click here. In the UK you can call for free, at any time, to hear recorded information on 0800 066 066.
Source: https://world4justice.wordpress.com/2018/05/10/family-law-and-male-suicide-shaynetward-corrie-bhavnalimbachia/