ALL States - 5 Sep FREEDOM Day of Prayer & March
21/08/2020 Make a Comment
Contributed by:

F4J

( 9 articles in 2020 )
Victorians DEMAND an IMMEDIATE END to Lockdown!!!
AND for Ballarat Victoria venue/time click here
Also please show support for Zoe Lee, a pregnant mum, and her family who Victoria Police has sought to intimidate OR is this another false flag?
WE STAND UNITED IN PEACE & FREEDOM
Sacha Stone Message to all Australians (
Full video
)
Victorian football legend and high profile entertainer Sam Newman calls for 250,000 Melburnians to reclaim Victoria out of 'desperation'
(31/8/20)
It appears credibility, ethics and standards are in question here. Will a public apology be forthcoming or will Assistant Police Commissioner Luke Cornelius step down?
David Icke at demo in London UK on 29 Aug and police confrontation with people walking peaceably along the streets near their homes in Dandenong, Victoria, Australia - 26 Aug 2020
A MESSAGE to AUSSIE MUSLIMS STAND UP: FOLLOW THE WAY OF THE PROPHETS - Sufyaan Khalifa - 29 Aug 2020
Remember... Remember...
the 5th September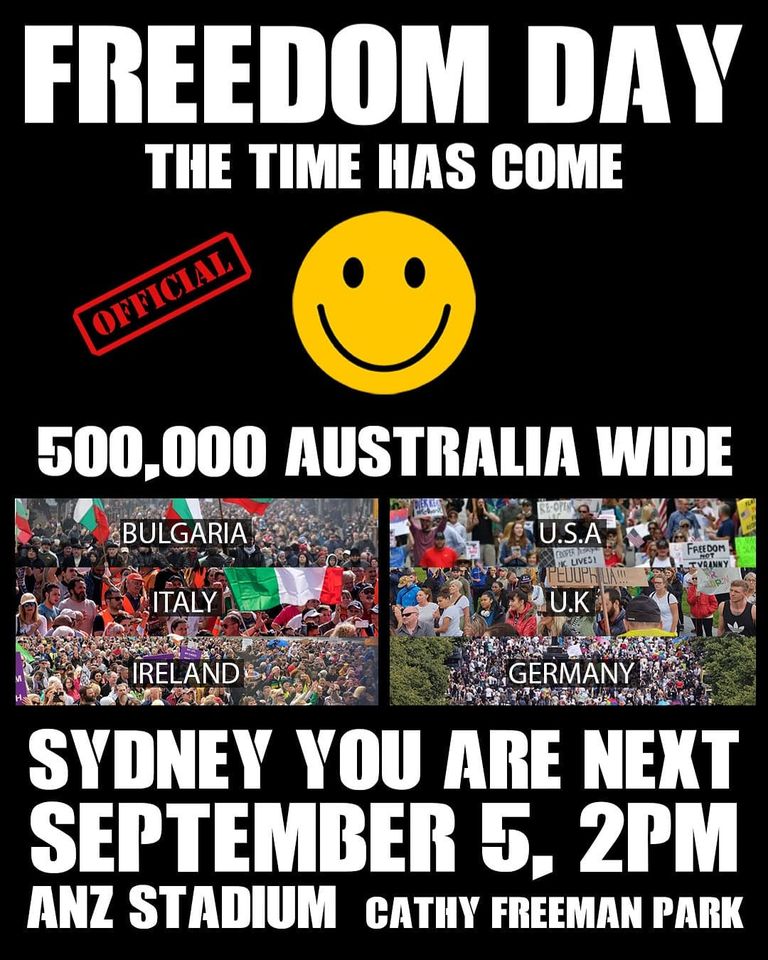 New Zealand Rally - 28 August 2020
Ireland's Fight for Freedom | Michael Leahy at "Time for Change" Rally - 22 Aug 2020
Say
NO NO NO NO
- Thousands flock to anti-lockdown protest - Dublin 22 August 2020
Exposing COVID - Dolores Cahill, Dublin Ireland, 25 July 2020
Hundreds rally against mask rules in Madrid Spain - ~17 August 2020
Foggy dew played at protest - Dublin 22 August 2020
Belarus protest: Lukashenko deploys troops as thousands rally - 23 Aug 2020
EXPOSED: World Bank Coronavirus Aid Comes With Conditions For Imposing Extreme Lockdown, Reveals Belarus President
Major ALERT! 5TH SEPTEMBER FREEDOM PROTEST MELBOURNE VICTORIA
24 Aug 2020
Forget the politicians, the game is rigged - The late George Carlin
Note: As with all F4J site content, please be advised that F4J provides the above for information and education purposes only.
F4J does not advocate or endorse the attendance upon any such protests, demonstrations or the like, especially in Victoria at present, where any attendance may be contrary to law or constitute any serious health risk.